Colibri 950 Silver Bracelet Jewelry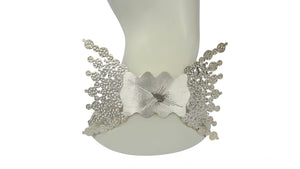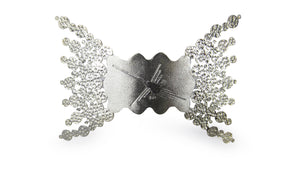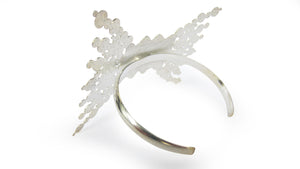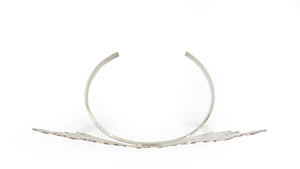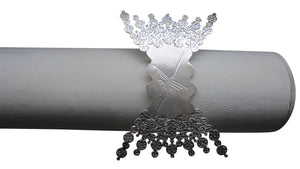 Colibri 950 Silver Bracelet Jewelry
Regular price $499.99
This charming silver adjustable bracelet for women is made by talented craftsmen, features engraved a hummingbird (Colibri) style. The jewel represents the ancient tradition of the Pre-Columbian history legacy; the hummingbird as an incredible migrant, some of them are known to travel up to 2000 miles to reach their destination, reaching great distances, registering that we must cultivate persistence and courage in pursuit of dreams and embrace the hummingbird's life force. A work of art made by nature, the smallest and most beautiful bird in the world, and an inviting symbol of life, all the reflected light of creation, a gift from heaven. So when a "Hummingbird" appears, it's telling you to get ready! That the beauty of things that are on the way will take you by surprise.
An exclusive design of the "Jewelry and goldsmith sculptural" Collection of Princesa Inca®.

SKU: PI-1557-03

DETAILS
✅ Adjustable
✅ Inner circ.: 6.02" L
✅ Band width: 5.0 mm W
✅ Thickness: 2.0 mm D
✅ Front: 3.55" L x 2.56" W x 0.8 mm D
✅ Weight: 0.72 oz. / 20.3 g.
✅ Material: 950 silver
✅ Made in Peru

GIFT
✅ Free jewelry package
✅ Premium jewelry box


Colibri Collection 950 Silver 

The Hummingbird (colibri) is the most remembered figure in "The lines and geoglyphs of Nasca" often spelled "Nazca", for its harmonic dimensions with a distance of approximately 66 meters between its two wings. Until now, according to archaeologists, the number of figures discovered is the most representative.

A work of art made by nature, the smallest and most beautiful bird in the world, weaver symbol of life, all the reflected light of creation, a godsend, found in South America and weighing from 2 to 6 grams, it is the only bird that can fly backward, forwards, up, down and backward. When he is drinking the nectar from the flowers he teaches to savor and appreciate the magic of the present moment for being alive, the paradise of aromas, flavors, and laughter; but when he can fly backward, he teaches that the past can be remembered but that it should not be insisted on and that the future is the beauty of dreams and that it must go forward as the evolution of its beautiful flutter.
In this mega project of "The lines and geoglyphs of Nazca," tell the mythology that many animals from the region came to help such as alpacas, llamas, vicuñas, pumas, foxes, vizcachas, birds, flamingos, ducks, partridges, condors and thousands of hummingbirds, which never before, the Nazca had seen so many varieties of Hummingbirds (colibries) of all types, sizes, dimensions, and colors, being admired for their beauty, intelligence, enthusiasm and tireless capacity for work; with supernatural force and circular on its wings, like rays of sunlight. In gratitude for participation in the supernatural and solidarity labor, the Nazca men celebrated rituals in honor of these birds.
These hummingbirds are incredible migrants, known for traveling up to 2,000 miles to reach their destination with vast distances, reminding us that a person can be brave, persistent in pursuit of their dreams, and embrace the hummingbird's strength in life.
The Nazca ancestors tell that the hummingbird was a wise magician, a messenger of the gods, not only with an essence of magical power on its wings, but also in its beautiful feathers, which were used for the crown of the Inca emperor where it symbolized the resurrection of his own life, as it represents the hummingbird that seems to die on cold nights, but returns to the beauty of life to start as a new dawn.
The hummingbird teaches us to appreciate the good things in life, what is truly valuable, the real treasures, and sometimes we do not realize it, and they are there; he always finds beauty in all its forms with a spirit of joy and enthusiasm. A creature that opens the heart with beautiful and profound spiritual messages manifests that although the heart may be closed, there is an opportunity to heal it and open it to our divinity, it is time to receive all the greatness that the universe wants to give us.
THEORIES OF ITS CREATION
It is known about its creation, but it is still a mystery to its creation, there are main theories:
THEORY 1: GIGANTIC ASTRONOMICAL CALENDAR
According to astronomers, archaeologists, and mathematicians, the most widely accepted theory is that it was used as a "gigantic astronomical calendar," considering it "The world's largest astronomy book." A calendar that marked the solstices and equinoxes to forecast the periods of planting, harvesting, rains, rest, partying, and others. Also, an astronomical observation site designed to target and contemplate the movement of celestial bodies such as stars, planets, constellations, and other phenomena, with the belief that they influenced the destinies of men and nations.
THEORY 2: MAP OF UNDERGROUND AQUIFERS
Another theory according to hydrologists, geologists and researchers claims that they were a "Map of underground aquifers" to locate water, essential for survival in the desert. An exact location for the location of water sources, built by a prodigious network of underground channels that started inside some hills, capturing groundwater and transporting it to the cultivated fields. Today farmers associate lines and geoglyphs with the water cycle.
THEORY 3: SACRED PLACES IF GODS
Another theory that prevails according to the ancient beliefs of the Nazca, is that these figures represent "Sacred Places of Gods", Apus of the hills, divinities, living creatures, epicenters, to carry out cults, rites, offerings, and ceremonies to those whom he believed that they also controlled the forces of nature such as earthquakes, periods of drought and floods, among others.
THEORY 4: EXTRATERRESTRIAL CREATION
This has motivated the theory of several researchers and Ufologists, who firmly maintain that they were "Extraterrestrial Creation", through codes made to meet beings from other planets, a landing field of alien ships, represented in ceramics with a large number of drawings of winged gods and others who, without having wings, are in a clear flight position.
people are currently looking at this product
Estimated delivery time 3-5 days